Member Spotlight Featuring Shrina Bivens!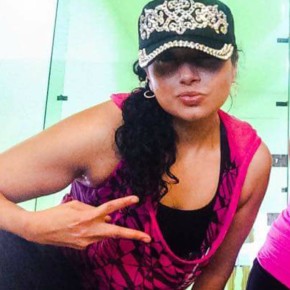 Hi, my name is Shrina and I've been part of the Pulse family for 2.5yrs. I immediately fell in love with Pulse from my 1st Zumba & POUND classes! From the magical ambience, stage, sound & awesome lights, to the community of like minded beautiful kindred spirits dancing & pounding their hearts out, it has all added zest, FLAVA, variety & FUN in my life as a major group fitness enthusiast & people loving extrovert!
       I'm grateful that I enjoy exercise especially because I battle a lifelong hormone disorder that makes it really easy to gain weight & difficult to keep the weight off. Thankfully, this challenge to fight the battle is made easier by my drive & passion for fitness, especially group fitness & anything that is choreographed to music as a life long dance lover.
With my huge love for fitness, I enjoy a wide array of workout formats, whether it be Zumba, POUND, Bodycombat, lifting weights in Bodypump, to getting my groove on in Hip Hop, U-Jam, enjoying special master classes like Pepper Von's incredible Fierce Funk workshop like this past summer, to dancing Soca & Bollywood styles, to slowly learning to like Yoga :), Willpower & Grace and being good to my body with the incredible repair classes like MELT in Pulse.
I enjoy going on my weekly therapeutic 5 mile runs in the beauty of Oregon's outdoors, taking long bike rides, hiking, kayaking, playing tennis, badminton & so much more! Exercise & fitness are both a passion as well as a healthy habit & lifestyle for me & not at all a chore or burden. And I love to reach out to new, especially shy people in Zumba & other formats & help them feel comfortable dancing, which is so much easier to do so without mirrors in a beautiful place like Pulse.
I'm continually finding myself enthusiastic about new fitness formats, with dance being my first love in fitness. I'm excited to get back into belly dancing classes which I did even while pregnant with my 1st daughter. I never stopped doing the things I loved when pregnant with either of my 2 girls: hiking, dancing, kickboxing all the way close to when I delivered. I credit my very active lifestyle for giving me 2 super fast, easy, all natural labors. Today, I enjoy going on mother daughter fitness dates where my 7yr old rides her bike the entire time I'm running alongside of her for 5 to 7 miles :).
I love that Pulse always brings us exciting new dance formats for us to enjoy. Dance & music is my heart & soul and I'm continually bubbling over with excitement over new choreography & dance formats and Pulse is in the very heartbeat of fueling my fire & passion to dance, Pound my heart out, loose myself to music & bank on serious endorphins. I feel very blessed & grateful to be part of such a incredible community!