Member Spotlight Featuring Evylyn Brown!
What are some highlights of your health journey?
I decided it was time for me to step up and do something about my body/weight about 18 months ago. My weight had slowly crept up over 200 lbs and I was just about to bust out of my size 12/14 jeans. I'd always been an active kid. I did ballet and other forms of dance from the time I was 4 and through college. I played many different sports, and been part of an active family. But college killed that active drive. Between the sedentary lifestyle, and a sweet tooth that doesn't know when to quit, I didn't recognize the woman in the mirror anymore.
But in the summer of 2013 I decided I really needed to do something. I tried to start running, and hated every step. I did some workout classes at a local gym but didn't love any of them, even Zumba. Their Zumba classes were in a super bright room, lined on 3 sides with mirrors… Not the best way to inspire confidence. But I kept plugging away because I knew my (then) boyfriend was planning on proposing, and I wanted to be in the best shape of my life for our wedding. Over the last 18+ months I've lost approx 45 pounds, and gone from a 12/14 pant to a 4/6. I've gone from someone who had to bribe herself to workout (seriously… If I followed my workout plan for a month I'd go get a manicure), to a person to craves my workouts. While I still don't LOVE running, I don't totally hate it anymore. I've run three 5k's, two 10k's, and a 15k. I'm registered for another 10k in May, and my first half marathon in October.
How did you find PulsePDX?
I found Pulse through my best friend. She texted me and wanted to know if I'd come to Zumba with her at this awesome place she'd found. I was SUPER skeptical because I'd had such horrible luck with Zumba in the past. But, I showed up and gave it a whirl. It took my a few months to work my way up to the front of the room though. I'm a perfectionist, and I didn't want to be up where people could see me unless I could do every routine perfectly.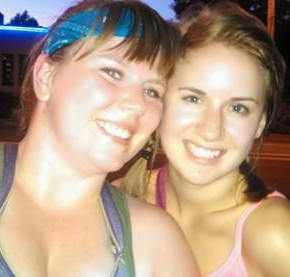 What's your favorite thing about Pulse?
The people! Pulse has given me an amazing group of friends who I can't imagine my life without. Everyone is so warm and welcoming to every one who walks through the door. Pulse has become a place that I want to share with every person who is special to me. I've brought my fiance, my mom, my sister, my soon-to-be mother-in-law, and lots of friends. Every one of them has commented how happy and welcoming Pulse is.
As a former dancer, I also LOVE the choreography. It's easy to follow, but still challenging.
What role does Pulse play in your fitness routine?
Pulse is my happy place. I'd come every day if I could. Right now I hold down the front row during Zumba on Saturday and Sunday morning, and at Sunrise Zumba on Tuesdays.
What do you do when you aren't dancing around with us?
Well, outside of working and planning my wedding (Ahhhhhh!) I spend time with my fiance Ben and our cat Oscar Wilde. Most evenings are spent on our couch watching TV/Movies (after going for a working out, of course). Favorites include: Anything in the Marvel Universe, "The Daily Show", "Doctor Who", "Friends", and many more….